In 2009, President Barack Obama of the United States received the Nobel Peace Prize. In fact, the award
surprised many observers
. Nobody could point to one single initiative Obama had done to bring peace to the world, meriting him such a respected and prestigious award. But there was nothing anybody could do to reverse the decision.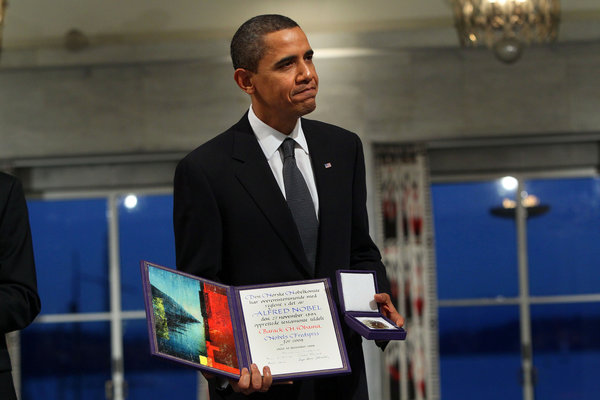 Finally, the young overrated first black man to become the president of the United States, took office. Obama inherited a government from George W. Bush, who had plunged the country into needless war in the Middle East. Many were expecting that even though Obama proved nothing meriting his award of the prize, he would finally have the opportunity to demonstrate his worthiness of it.
But this hope would soon be dashed. Once Obama got into office, he continued the wars started by Bush and even instigated a few of his own, proving himself to be just as much of a warmongering president as Bush was, if not worse.
Just two years after receiving the prize for being the most peace-promoting person in the world,
Obama murdered a United States child with a drone
. On October 14, 2011, American teen, Abdul Anwar al-Awlaki was killed as he ate dinner in Yemen, by a CIA drone strike ordered by Obama. You can just google the name of the teen for more details. There were many condemnations from human rights groups over this incident. But that was only the beginning of a carnage that Obama unleashed onto the world.
President Obama helped toppled a somewhat peaceful Libyan government of Muammar Gaddafi. Today, Libya has become a complete failed state. In separate 'foreign relations,' Obama again, armed and supported criminals and terrorists wanting to overthrow the government of Syria. He has intensified the rivalry between the Sunni monarchy of Saudi Arabia, and Shia theocratic nation of Iran. This has given rise to all kinds of terrorist groups in the region, notable among them, ISIS. To put it short, the Middle East, under Obama's time as the American president, has become a war theatre. And of course, many of the weapons being used to commit atrocities in the region are made in the United States.
The United States defense headquarters has released figures regarding the country's foreign arms deals. For those who care for humanity and world peace, the figures are just appalling.
According to the Pentagon, the Obama administration
has approved more than $278 billion in foreign arms sales
between 2009 and 2016. That is the entire eight years of Obama's rule. The figure has more than doubled the total of the previous administration of Bush Junior. The Bush administration approved $128.6 billion in arms exports between 2001 and 2008.
According to unnamed sources in the Pentagon, the figure excluded jet fighter deals with Kuwait, Qatar and Bahrain. These deals are said to be over $7 billion by themselves.
It is said that most of the arms sales under Obama have gone to Saudi Arabia and other Middle Eastern allies of the United States. Saudi Arabia alone, is said to have bought more than $115 billion of the arms. According to
Defense One
, among the weapons approved for Saudi Arabia includes F-15 fighter jets, Apache attack helicopters, Blackhawk utility helicopters, missile interceptors, armored vehicles, bombs and missiles.
The Director of the Arms Security Project at the Center for International Policy, William Hartung, openly said that Obama has brokered more arms deals than any United States government since World War II (WW II). Shall I repeat that? Obama has sold more weapons to kill people than any other president of the United States since World War II.
"For the number of deals and total value nobody even comes close," Hartung said, adding that the situation is very worrying.
Even on the very Tuesday when Americans were voting to elect a new president, the Pentagon announced its approval of $33.6 billion in arms sales in 2016. This was down from the $40-plus billion approved in 2015. These estimated totals are compiled for each United States fiscal year, which runs from October through to September.
This is what a man – who has his name on the list of peaceful personalities for the world – has done. Obama has proven beyond any reasonable doubt that he should never have received or deserved the Nobel Peace award.
From what Obama has done, we can now fully agree with people who said in the past, that his award
was a terrible mistake
and damaging to the Nobel Committee.
"We thought it would strengthen Obama and it didn't have this effect. No Nobel Peace Prize ever elicited more attention than the 2009 prize to Barack Obama. Even many of Obama's supporters believed that the prize was a mistake, in that sense the committee didn't achieve what it had hoped for," former Nobel Secretary, Geir Lundestad said about Obama in 2015.