Battery technologies starting to disrupt the electricity and automobile industries may also emerge as a trillion-dollar threat to credit markets, according to Fitch Ratings.
A quarter of outstanding global corporate debt, or as much as $3.4 trillion, is linked to the utility- and auto-industry bonds that rely on fossil fuel activities, the ratings agency wrote in a report published Tuesday.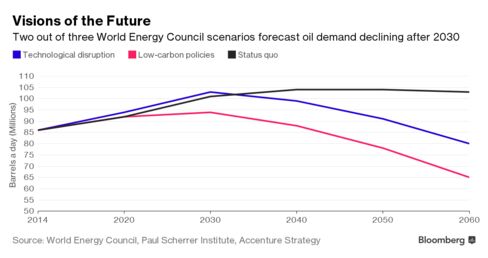 Mapping out the full effect of battery technologies on the fossil fuel economy currently exceeds the time frame of rating methodologies, according to Fitch. It advised utilities to lower their risk by diversifying into clean energy technologies.
"Diversification will help guard against the risk that the markets turn against" the oil economy," Fitch wrote.
Battery prices fell 35 percent last year and are on a trajectory to make electric vehicles as affordable as their gasoline counterparts over the next six years, according to Bloomberg New Energy Finance.
"They'll have a huge impact in terms of air quality, but it's not a game changer over 20 years even with aggressive electric vehicle penetration,'' Dale said at in a panel discussion at the Bloomberg New Energy Finance summit in London on Oct. 11.