Just going about the day today I see Anonymous trending in the Facebook News feed. Anonymous is the top story on Bing's home page. I even overheard a group of construction workers talking about Anonymous in relation to an American politics discussion today – which normally doesn't fit on with the likes of Beck, Limbaugh and Hannity. All the attention a result of a combination of
#OpISIS
and the LBGT, gender equality debate in today's society.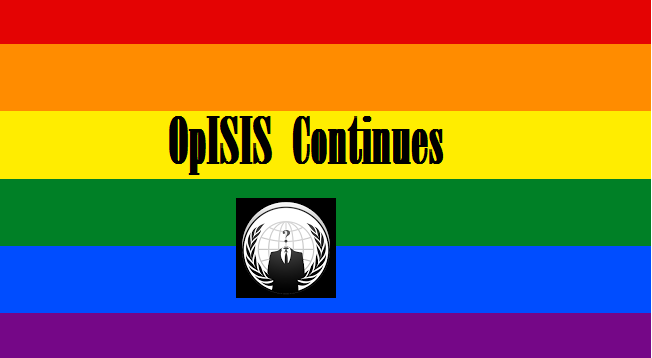 Little known fact, ISIS supports gay rights. I heard it on the internet.
The efforts today come from someone known as WauchulaGhost – who, like many, aims to hold Twitter accountable for sponsoring terrorism.
Believe it or not, Twitter has been fined for sponsoring Terrorism. Some
countries even ban Twitter
for this same reason. In international courts, Twitter has been sued by governments for allowing terrorist attacks in those respective countries to proliferate through use of their services.
You can pitch in and do your support by voicing your concerns on this issue, demand Twitter take some responsibility for terrorism advancing through their service. This should not have to be the work of people like Anonymous; it should not be our responsibility. Twitter needs to step up, do more and remove ISIS from their servers. The FBI, even Facebook, can can use facial recognition software on our online pictures to identify people and you are seriously telling us that you cant then recognize the key words of an attack or an ISIS flag? Twitter can certainly do more.
Normally, Anonymous deletes the Twitter handles or reports the important ones to the proper authorities. Tens of thousands, perhaps 100's of thousands ISIS accounts have been taken down over the last two years or so. Needless to say, Anonymous can hack your Twitter whenever they want.
A point to which WhauchulaGhost used the power to post pro-LGBT messages, imagery and insults directly to the social media accounts of known ISIS members. In case you have lived under a rock to this point in time, ISIS exterminates gay people everywhere they encounter them in the Middle East and Africa. Makes the Orlando shooting feel rather trivial in comparison doesn't it?
– – –
Picture Source: https://www.hackread.com/anonymous-hacking-isis-twitter-lgbt-pics/
Read more about the history of #OpISIS: http://anonhq.com/?s=opisis